Welcome to the booking portal - for your individual part-time continuing education programme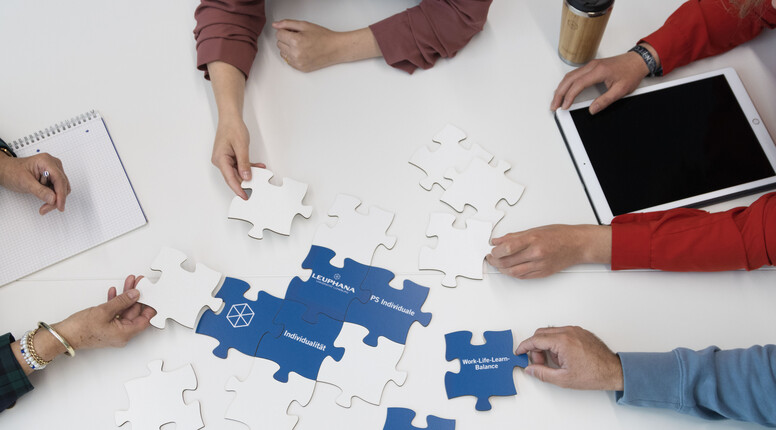 Professional biographies are becoming increasingly individualised. Today, employees have to react more frequently and more quickly to new challenges such as digital change, global competition or climate change. They need to be able to continue their education - even at short notice - in a way that fits their professional needs and is flexible in terms of time, so that they can keep up to date with the latest knowledge. With Leuphana Professional School's modular offer for part-time continuing education, you have the opportunity to get fit for new challenges in your job in an individual, custom-fit and flexible way. Combine your own personal continuing education programme from our various continuing education courses with their diverse range of study modules. There are around 200 modules available for you to book throughout the year. If you cannot currently find the seminar you are looking for in the shop, please visit the relevant category again in a while or contact us directly.
The options for your part-time continuing education programme
Whether you want to book individual modules or combine several modules that meet your continuing education needs in one certificate programme: you will find what you are looking for in our booking portal. In ten subject categories we offer you a wide range of modules for your part-time continuing education. All study modules come from our accredited continuing education Bachelor's and Master's degree programmes - so you will benefit from higher education standards in your modular continuing education.

However, you can not only freely compile your part-time continuing education with us in terms of topics, but also determine the structure. In the modular study programme, you take the desired modules with an examination and receive a confirmation of participation and an overview of your achievements at the end. If you would like to complete your modules without an examination, module participation is an option for you. If you select modules worth at least 15 credit points, you also have the option of obtaining a Professional School Individuale university certificate.