Sustainable Chemistry and Renewable Energy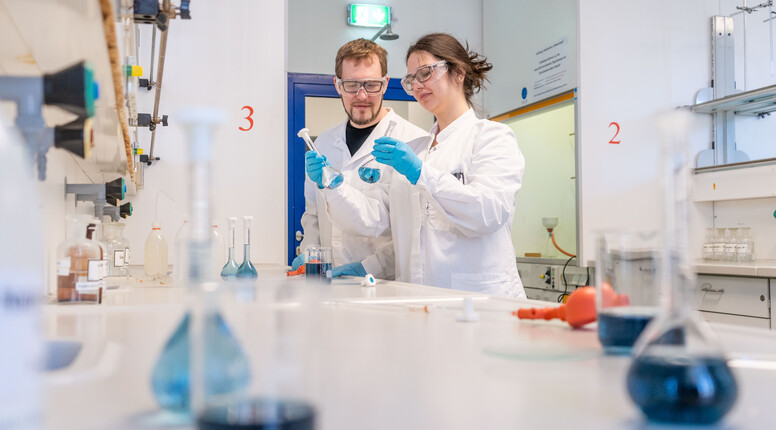 © Leuphana/Patrizia Jäger
Currently
3 places
available
Courses of this module
F6
Sustainable Chemistry and Renewable Energy
Termine
In process of planning *
* Die Veranstaltung findet im Zeitraum 08.02.2024 bis 13.03.2024 statt. Die genauen Termine werden in Kürze bekanntgegeben.
Product information "Sustainable Chemistry and Renewable Energy"
The course provides an overview of the current status of the energy transition (Energiewende) in Germany and which targets have been defined and have been met so far and still need to be met. The course aims to shed light on the energy system transformation from the point of view of energy economic and energy policy developments and goals. In the first part of the course, the objectives of the energy system transformation and the goals that have been achieved will be examined. In the second part of the course, special attention is paid to the energy economy and the role of renewable energies in the energy system transformation. In particular, the opportunities and risks of a full supply of renewable energies are examined.
is restricted access:

Yes

Requirements - university entrance qualification:

Not required

Requirements - one year of work experience:

Required

Requirements Language:

English: TOEFL Internet (92 points); IELTS (Acad. Level 6.5 points); CAE/CPE (Level C1, Grade B); TOEIC (720 points listening/reading, 310 points speaking/writing); if necessary, individual examination.

Requirements Expertise:

Knowledge of chemistry, biology & environment

Other requirements

1) Training as a chemical-technical assistant or pharmaceutical-technical assistant

OR

2) B.Sc. in Chemistry, Pharmacy or similar

Topic:

Engineering & Natural Sciences

, Sustainability, Energy & Environment

Format of course:

Online

Level:

Master

Course language:

English

Study programme:

Sustainable Chemistry

Number of credit points / ECTS:

5

Workload Contact time (in hours):

8

Workload self-study time (in hours):

117

Examination:

In-class examination

Exam format:

Portfolio

Further exam format:

No further Exam

Qualifikationsziele

You will acquire substantive knowledge about:

Overview on renewable energy types
Raw materials needed for renewable energy production (focus on wind energy and solar energy)
Contribution of sustainable chemistry to renewable energy and vice versa
Resources supply bottlenecks and resources management
The current production schemes in chemical industry and how chemical industry contributes to climate change
How a feedstock transformation in the chemical industry avoiding fossil sources can look like and the potential role of carbon dioxide and hydrogen from renewable energy sources
Power-to-X technologies for the synthesis of platform chemicals and fuels
"Grey, blue, turquoise and green" hydrogen
CO2-utilisation, Power-to-X and sustainability: environmental, economic and social impacts of these new technologies
CO2 availability, and the question which sources to be valorized and if there is a merit order of sources
The transformation towards greenhouse gas neutrality – the role of interim technologies
Energy policy, goals and developments in Germany
Energy economy, energy transformation, energy economic effects with the use of renewable energies